10 reasons why you will fall in love with Los Angeles while studying here
At the Harvest English Institute, we are lucky to have three fantastic campuses across the US. They are located in some of the US's most unique and popular cities: Newark, New Jersey, Orlando, Florida and Los Angeles, California.  For all of you who are in the process of choosing where to study English as a second language, we recognize what a big and important decision this is for you.
Choosing to study English abroad in the US is a wonderful opportunity to immerse yourself in an English-speaking culture and experience life here first hand. By the end of your studies, not only will you be speaking English like a local, you will also have had the opportunity to visit some amazing parts of the country, celebrate unique cultural traditions, and try some mouthwatering local food.
This week we are shining the spotlight on our campus in the heart of Los Angeles, California! Here are our top 10 favorite things about this vibrant city that we think you are going to love!
---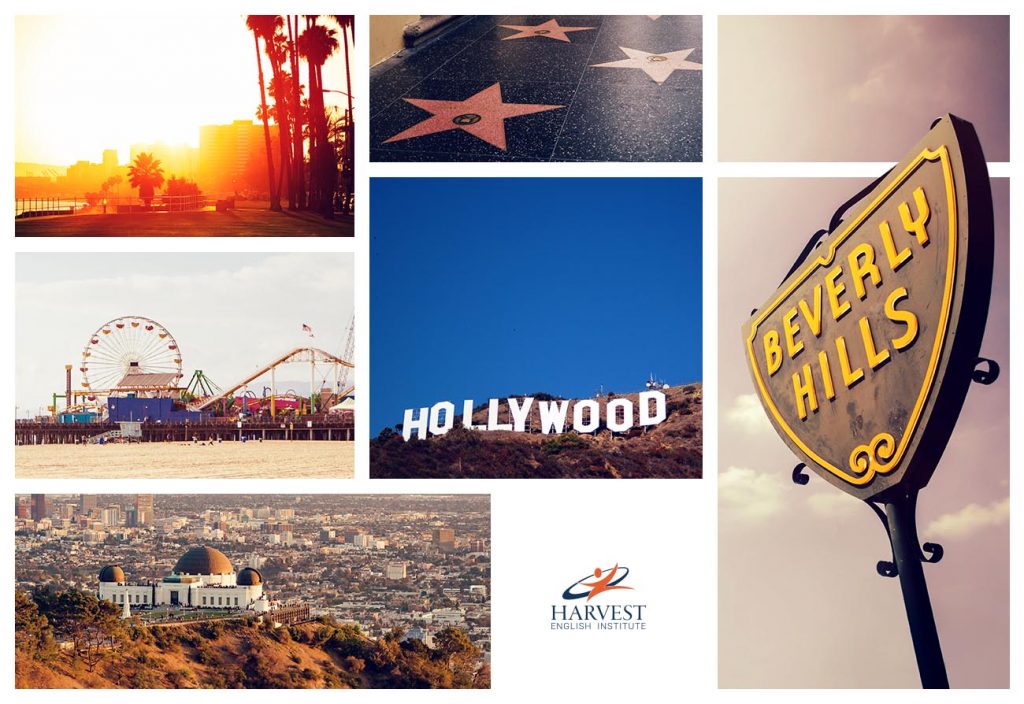 The sunshine – Los Angeles is warm and sunny! The city enjoys approximately 284 sunny days each year, putting it above the national US average.

The landscape – Surrounded by rugged hills and mountains with spectacular views, you could go for a hike every day if you wanted to.

Celeb-spotting – We can guarantee that you will spot at least one celebrity during your time in Los Angeles, maybe more! Keep your eyes peeled when you are grabbing a bite to eat or popping into a grocery store.

Watching a movie – When you go to see a movie in Los Angeles, it's always special to think that you are seeing your favorite stars on the big screen in their home of Hollywood. Not only that, but Los Angeles is packed with famous movie theaters, including the TLC Chinese Theatre, ArcLight Hollywood, The Egyptian Theatre, and the Historic Broadway theaters.

The food – The food scene across the US is impressive to say the least, and Los Angeles is no exception. Be sure to experience one of the traditional American diners found across the city. Also, take time to visit one of the many diverse neighborhoods known for their exceptional cuisine, including the Hispanic flavors of Boyle Heights.

The shopping scene – Los Angeles is the ideal city for shopaholics! Especially if you are a fan of designer brands, you will want to head to Beverly Hills and Rodeo Drive, among other shopping havens.

The beaches – Whether surfing is your thing, or you prefer to enjoy a morning run along the beach, there are plenty of shoreline paradises to choose from on the Los Angeles coast. You'll be sure to enjoy picturesque scenery featuring sandy bays, hidden sea caves, and rugged coastlines.

The cultural scene – As you can imagine, the arts are a big deal in Los Angeles! With over 100 museums to choose from, you will be immersed in a cultural dream!

Sport – If you want to experience traditional American sports during your time in the US, Los Angeles is the right place! The city is home to the Dodgers baseball team, three professional basketball teams, the L.A. Kings ice hockey team, and the L.A. Galaxy soccer team.

The Harvest English Institute campus! – Learn English from some of the best teachers in the country and make lifelong friends from around the world.
---
Are you already halfway done packing your bags to come and join us at the Harvest English Institute in Los Angeles? We hope so! If you would like to learn more about our campus and the courses available here, we would love to hear from you. Get in touch with us at 0833 609 4646 or email us at harvest@harvest.net