10 reasons why you will fall in love with Orlando while studying here
In some of our recent blog posts you may have read about why we think it's so great to study with us at the Harvest English Institute at our campuses in both Los Angeles and Newark! Well, we couldn't talk about both of these great cities without mentioning our fantastic campuses in Central Florida too.
Fondly known as the Sunshine State, there are plenty of reasons why our students fall in love with Orlando while studying here with us. When you aren't in class learning with one of our top English language teachers, there is plenty to see and do across the city. Below are just some of our favorite things about this brilliant destination. It's no wonder that it has become one of the cities most visited by tourists in the entire world!
---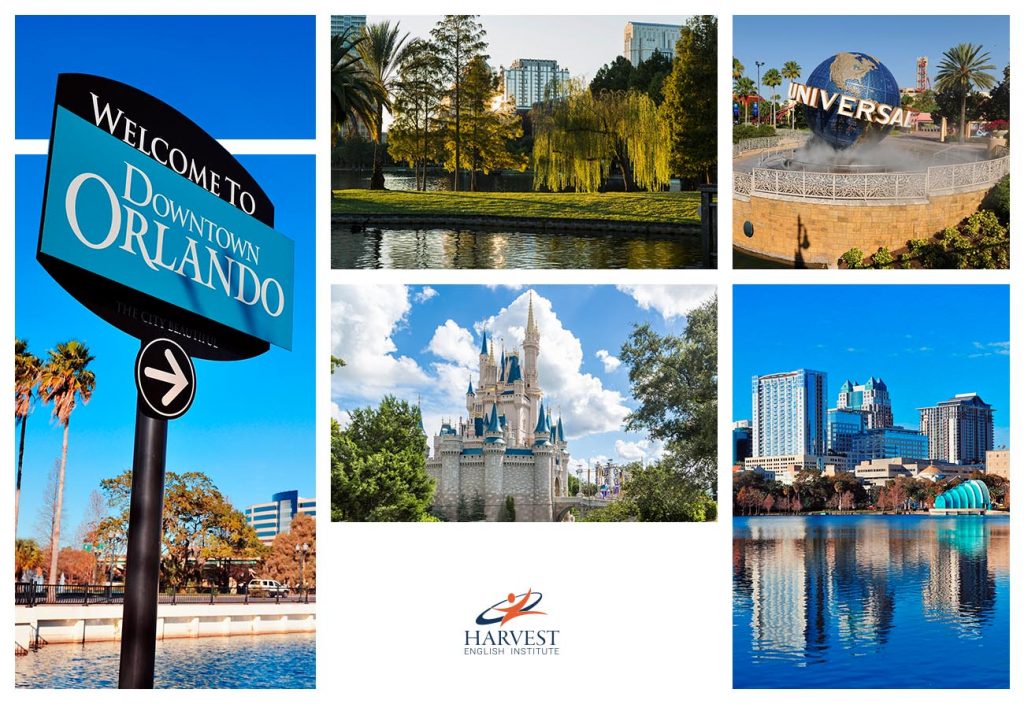 It's the theme park capital of the world – No matter your age, if you are in Orlando, you cannot go without visiting one of its world-famous theme parks. With a wide range of parks, including Walt Disney World Resort, Universal Orlando Resort, SeaWorld Orlando, and LEGOLAND Florida, there really is something for everyone.

The city's history – Orlando's nickname, 'the City Beautiful', dates to the beginning of the 20th Orlando had a humble beginning as a collection of citrus growers but maintained its beauty as it developed into a vibrant city.

Lake Eola Park – Lake Eola is beautiful public park in Downtown Orlando. Locals and tourists alike flock here to enjoy its main feature, Lake Eola, which is in fact a sinkhole! Visitors to the park can also enjoy the weekly farmers market every Sunday and other seasonal events throughout the year.

The oranges – We hope you are a fan of oranges, because there are plenty of them here in Orlando! Visitors can even enjoy a day picking these juicy fruits at local orange groves.

The sun – It's no surprise that Orlando is sunny, being located right in the center of Florida, the Sunshine State. With over 233 sunny days every year, you will have no problem catching some rays.

Its food – Orlando was recently selected as one of the top foodie capitals of the world for its wide range of international cuisine.

Celebrating the arts – For culture lovers, Orlando is a great city to experience a wide array of art forms. With attractions like the Orlando Museum of Art and the Dr. Phillips Center for the Performing Arts, you can expect to enjoy everything from Broadway shows to orchestral masterpieces in Orlando.

The Wekiva Springs State Park – Located just north of Orlando, this unique state park is the ideal destination for lovers of both the outdoors and adventure!

NASCAR – As the home of NASCAR, the Daytona International Speedway is well worth a visit and only an hour outside of Orlando.

The Nightlife – With a bustling nightlife and plenty of entertainment to choose from, you can spend the night at an energetic downtown nightclub, a laidback bar in the suburbs, or a live show at one of the city's theme parks.
---
If you have always wanted to visit Orlando, Florida, why not pay us a visit and improve your English Language skills at the same time? Here at the Harvest English Institute, we offer a wide range of courses, suitable for all levels and abilities. For further information about our Orlando campus, visit our website and get in touch with us at 0833 609 4646 or email us at harvest@harvest.net